SPONSORS

GOLD

SILVER

BRONZE

ACP 11th Annual Scientific Meeting & Workshops
Stamford Plaza Double Bay | Sydney
18-21 September 2007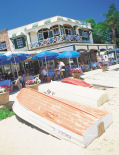 www.phlebology.com.au
The Australasian College of Phlebology held the 2007 meeting in spring in one of Sydney's most vibrant and boutique suburbs; Double Bay.

The conference was held at Stamford Plaza Double Bay; a 5-star hotel. Fine loction, fine service, fine dining and fine decor.

Sydney's city centre offered delegates a huge variety of attractions, including designer boutiques, fine restaurants, hip bars and lavish department stores. Clusters of modern office towers look down on the action and over Sydney's historic precincts, such as The Rocks.

Surrounded by Sydney Harbour, open parks, tree-lined boulevards, grand residences and luxurious penthouses, this vibrant retail precinct is renowned for its pavement cafés, exclusive boutiques and priceless jewellery shops.

The academic program covered many aspects of phlebology with keynote speakers including:
Dr Attilio Cavezzi, Vascular Surgeon, Italy
Professor Ted King, Phlebologist, USA
Dr Louis Grondin, Phlebologist, Alberta, Canada
Dr John Kingsley, Vascular Surgeon, Alabama, USA
Professor Hugo Partsch, Professor of Dermatology, University of Vienna, Austria
Professor Eberhard Rabe, Department of Dermatology, University of Bonn, Germany
Professor Allan Sturgess, Rheumatologist, Sydney
Professor Andre van Rij, Vascular Surgeon, Dunedin
Professor Kenneth Myers - Vascular Surgeon, Phlebologist, Melbourne
All ACP members were invited as well as interested physicians and registered nurses.

MOPS and AVE points were available for the program and endorsed for CME purposes by the ACP and the RNZCGP.

For further details contact Leon Olsen (Conference Matters) at leon@conferencematters.co.nz or +64 (0)21 164 3815.
Enquiries and Registrations:

Conference Matters

Business Manager Leon Olsen, Email:
leon@conferencematters.co.nz
Phone +64 (0)21 164 3815 Fax + 64 (0)9 437 4089
PO Box 1661 Whangarei New Zealand