Traversing from east to west, Telluride's terrain shifts from expert to beginner, keeping skiers and riders in areas suitable to their skills. The east end of the mountain provides a formidable challenge for experts; the middle of the mountain offers plenty of cruisers and corduroy for intermediates; and the west side offers gentle runs where beginners can play.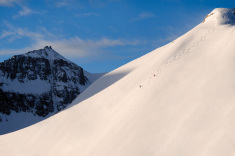 Expert
Adrenaline junkies beeline to Plunge (Lift 9) to conquer steep bump runs, such as Kant-Mak-M, Spiral Stairs and Mammoth. Some experts opt to take the Plunge, a classic known for its breathtaking views of the town of Telluride. This jaw-dropping, black-diamond run descends 3,140 vertical feet from the top of the mountain down to Telluride. Others prefer the steep and deep off the Gold Hill (Lift 14), where Little Rose, Dynamo and Electra are popular choices.
Intermediate
While Telluride is renowned for its steeps and bumps, 38 percent of the mountain is intermediate terrain. Village, Palmyra and Prospect (Lifts 4, 5 and 12) are perfect for intermediates, offering corduroy cruisers, glades, moderate bumps and short chutes. See Forever,Telluride's most popular intermediate trail, is just over three miles long, providing panoramic views all the way to Utah's La Sal Mountains.
Beginner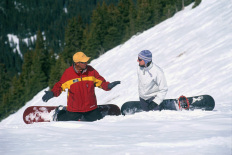 With wide-open slopes and no lift lines, beginner skiers and riders can learn the tricks of the trade in a friendly atmosphere. Sunshine (Lift 10), Ute Park (Lift 11) and Prospect Bowl are a beginner and lower intermediate's dream with meandering green and blue runs nearly two miles long. Beginners enjoy the Galloping Goose, a 4.6-mile run that gently works its way from the top of the Prospect (Lift 12) down to the bottom of the mountain at Mountain Village.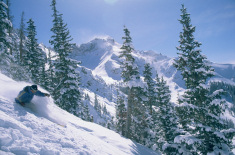 Powder
On a day with fresh snow, true powder hounds head to the lifts at the break of dawn to jockey for the most coveted of spots—first chair. The early bird does get the worm, and riding first chair translates into the sublime: freshies from top to bottom. Favorite powder runs among the locals include Andy's Gold, Bald Mountain, Revelation Bowl and Mammoth.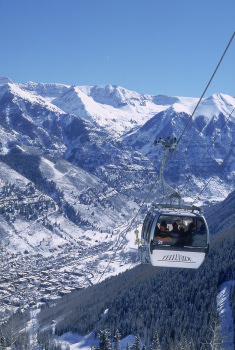 Skiable acres: 2,000+
Longest run: Galloping Goose, 4.6 miles
Coonskin (Lift 7): 8,725 feet (2,660 m)
Station Telluride: 8,760 feet (2,670 m)
Station Mtn. village: 9,540 feet (2,908 m)
Plunge (Lift 9): 11,890 feet (3,625 m)
Gold Hill (Lift 14): 12,255 feet (3,738 m)
Terrain: 24% beginner, 38% intermediate, 38% advanced
Average annual snowfall: 309 inches
Vertical drop: 4,425 feet,
Total lifts/trails: 18 lifts/100+ trails
1 three-stage gondola (2 lifts)
1 fixed grip quad
7 high-speed quads
2 triples, 2 doubles
2 magic carpet for beginners
2 surface lifts
Lift capacity: 21,186 skiers per hour

Meet the Mountain
Skiers and snowboarders are invited to join Telluride Ski Resort Mountain Hosts on these popular tours that highlight legendary terrain and incorporate stories about Telluride's rich history. Meet at the trail map sign at the top of Coonskin (Lift 7) at 10 a.m. daily.

Mountain Hosts
More than 30 staff and community members comprise this friendly group. Hosts are happy to answer questions or give a free tour of the mountain. Contact hosts at Guest Services
Centers or look for their red jackets on the ski area and throughout Mountain Village.
Terrain Parks
Skiers and riders hitting the slopes of Telluride can choose from three terrain parks: the Hoot Brown Terrain Park, Ute Beginner Park or Butterfly Intermediate Park. Built for experts only, Hoot Brown Park incorporates the latest in jibs, boxes, hits and a pipe. Those new to the sport can get into the groove in the Ute Beginner Park—located off the Ute Park (Lift 11)—where small hits and rollers create the ideal environment for beginners. Featuring moderately sized tables and boxes, the Butterfly Intermediate Park serves as the perfect bridge between beginner and advanced park riding.
Discounted group lift passes have been arranged with Telski with a 20% discount on retail prices. Tickets must be purchased via the Registration Form at least 14 days prior to the conference to receive this discount.
Discounted equipment hire has been arranged with Telluride Sports providing the highest quality equipment and world-class service. Rental equipment options include:
* Boots - Nordica Easy Move, Tecnica Entryx RT, Dalbello MX Super, or comparable.
* Skis - Volkl AC50, Volkl Mantra, Volkl Tierra Motion, K2 Apache Reacon, K2 Xplorer, K2 One Love, K2 Lotta Luv, Salomon Tornado, Salomon Topaz, Dynastar Legend 8000, Dynastar Mythic, Rossignol Phantom 80, Rossignol Voodoo 80, or comparable.
Featuring the best skis on the market today. Skis are designed for all ability levels and are not just for the expert skier.
See the Registration Form for prices. A group discount of 25% has been negotiated and must be booked via the registration form.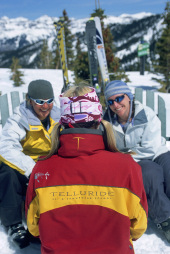 As a PSIA/AASI member, the Telluride Ski and Snowboard School has a rich history of innovative
teaching techniques. Although the American Teaching System is at the heart of the program, the ski and snowboard school embraces many different approaches. Each lesson caters to the individual needs of the student.
Telluride's Ski and Snowboard School staffs more than 200 professional and charismatic instructors from around the world. Collectively, they speak more than 10 languages.
Group discounts for lessons have been arranged with 30% off retail price.
Lessons meet 15 minutes prior to departure.
All lessons will call for the participants to pick up their lesson vouchers from Telluride Sports, as Ski School needs the Liability Waivers signed prior to releasing the lesson vouchers. These may be picked up anytime between 8am & 5pm at the Ski School office at the base of Chairlift 4. We do recommend that the students give ample time to get their rentals as well. We recommend to pick up vouchers no later than 10am for the 11:15 lesson start time.

Beginner Adventure
11:15 a.m. to 3:45 p.m.
This program is for first-time skiers and snowboarders and offers an introduction to the mountain. Learn to balance and turn in a supportive group environment. Please visit Telluride Ski Resort's website or call to learn about the variety of programs.
Full-Day Adventure
11:15 a.m. to 3:45 p.m.
The true vacationer seeking R & R can catch some extra Zs before a ski or snowboard lesson.

Contact Leon Olsen at Conference Matters or call +64 21 164 3815 for further details.