Located on the scenic San Juan Skyway in the heart of southwest Colorado's San Juan Mountains, Telluride and Mountain Village are 67 miles south of Montrose, 127 miles south of Grand Junction, 125 miles northwest of Durango, 7 hours from Denver, 8 from Phoenix and 6 from Albuquerque.

A National Historic Landmark District with Victorian-era architecture, Telluride rests at 8,750 feet at the base of the Telluride ski resort and is surrounded by peaks that rise up to 14,000 feet. The town is roughly 10 blocks long and five blocks wide, which means a car is unnecessary, especially with the free Galloping Goose shuttles and gondola transportation system.

What about Mountain Village?

Mountain Village is connected to Telluride by a free gondola ride. Located at 9,500 feet above sea level, Mountain Village overlooks some of Colorado's most magnificent peaks. The yearround alpine resort was founded in 1987 and hosts the ski resort headquarters, a golf course, restaurants, lodging, shops and other amenities of a thriving community.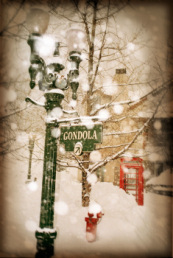 Anyone can ride the gondola. It's free to pedestrians who simply want to travel between Telluride and Mountain Village. The only transportation system of its kind in North America, the ride between the two towns requires only 13 minutes and provides stunning views. The gondola is handicap-accessible, and pets and mountain bikes are allowed in certain cabins.

What's it like at altitude?

At 8,750 feet in Telluride and 9,500 feet in Mountain Village, the air pressure is 40 percent lower than sea level. Regardless of physical fitness, Acute Mountain Sickness can strike anyone not acclimated to the elevation:
• Drink three to four quarts of water per day.
• Avoid overexertion, caffeine and alcohol for the first few days.
• Seek medical attention if persistent headache, fatigue, poor coordination or shortness of breath occur.